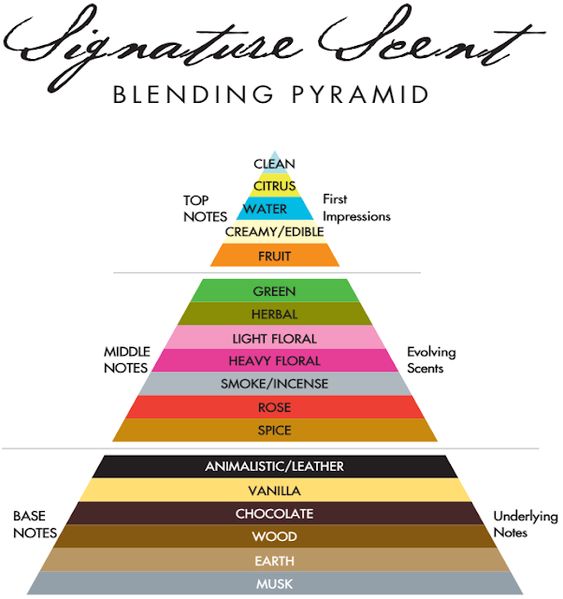 Candle Notes
HOW TO IDENTIFY WAX MELT FRAGRANCE NOTES
What are candle notes?
Much like the way you use multiple ingredients to make your favorite cake, candles & wax melts include many layers of different types of fragrances to build a singular fragrance. A fragrance "note" is a descriptor of the scent that you smell when you melt a wax melt. Every wax melt, candle, and perfume is built using a carefully crafted combination of different fragrance note layers. In addition, if a fragrance does not have a top, middle, and base note, it's described as linear. Also, fragrances like vanilla, amber, and musk are considered linear fragrances. They are not seen as complex fragrances.
You can think of the different layers of a fragrance in terms of three main notes. The differences between the notes can be identified by the fragrance progression over time. For instance, the top notes appear first, middle notes appear second, and base notes appear last.
Top Notes 
The top notes are often referred to as the "opening" notes. They are the first notes you might smell when you're melting a wax melt. The top notes can also be referred to as the "head" notes. The top notes are the fragrances that evaporate first, and they are usually the sharpest. Some might even call them a "flash" fragrance. Generally, the top notes are made up of the lightest fragrance oil, which is why they disappear so quickly. Common top notes include grapefruit, lemon, orange, rose, and chamomile. In wax melts and candles, the top notes are the fragrances you smell in the cold throw. Cold throw is what you smell before you start melting the wax melt or candle. For instance, if you were to pick up a candle in a store, cold throw would be what you smell straight from the jar.
Middle Notes  
The middle notes are known as the liaison between the top and bottom notes of the fragrance. The middle notes emerge right as the top notes are fading and make up the body of the fragrance. These fragrance notes tend to last slightly longer than the top notes but not as long as the bottom notes. You can identify the middle notes by the fact that they appear after the top notes and tend to be more mellow. The middle notes are generally known as the carrier fragrance.
Bottom Notes  
The bottom notes are the most long-lived, and they tend to be the fragrance that creates the memory you remember it by. The bottom notes make up the base of the fragrance. These notes prevent the lighter fragrances from evaporating as quickly. The base notes only appear once all the other ones have evaporated. In most cases, the fragrance you smell most is the base fragrance. Some common base fragrances are ones like cedarwood, sandalwood, vanilla, and patchouli. Our noses tend to pick up on those most because they tend to linger the longest.