"Going Green" Never Looked, Smelled or Felt So Good!
"Going Green" has become a prominent phrase for many companies, and a conscious choice for many families. Scent-Sations is doing its part too! Take our exploding "Going Green" natural product lines, wrap them up into one dynamic business and you have a company helping people enjoy life's pleasures in a whole new healthier way!
Our products are made from natural palm wax!
Creating an ambience of pure pleasure is the result of lighting any Mia Bella's candle and wrapping yourself with a beautiful earth friendly fragrance experience. Our fragrances are so rich your senses will think they are experiencing the real thing. Plus, our clean burning natural wax makes it a perfect candle for any environmentally conscious lifestyle. "Going Green" never smelled so good!
Scent-Sations introduced Mia Bella's gift bags made from TerraSkin, a tree-free paper made from crushed stone! Imagine protecting and preserving nature's beauty with a clean Earth Friendly bag that returns to its natural elements when disposed.
Our most recent addition to the "Go Green" philosophy is in our "Free Spirit" line of gourmet scented candles. "Free Spirit" is a combination of natural Palm Wax and Hemp oil. We were the first international candle company to introduce clean burning Palm Wax scented candles and once again we are the first to introduce Palm wax/Hemp oil formula!
Why Hemp?
Hemp has been used for fabrics, such as clothing, hats, shoes, and accessories, for decades. This is because the natural fibers are more durable, absorbent, warmer, and softer then cotton and many other types of fabrics used today. Hemp is weather resistant, mold resistant, and cost-effective.
Natural hemp is able to 'breathe' and is considered biodegradable. As a renewable resource, hemp grows quickly and easily, making it extremely cost effective. Since hemp is rich in cellulose, the production of biodegradable plastic products using hemp has become popular. Hemp fibers are currently being used in many industries as a substitute for fiberglass. The advantage that hemp has over fiberglass is that it's lighter, stronger, biodegradable, and cheaper to produce.
With the ongoing concern over the high price of oil, many eco-friendly activists are pushing towards alternative fuel options. Many "green" vehicles today run on a variety of fuels, such as corn oil. Hemp fuel can be used as a green alterative to gasoline, as it burns clean and produces methanol.
Hemp can be used in a variety of beauty products and cosmetics, such as shampoos, conditioners, massage oils, skin creams, salves, sunscreens, lip balms, soaps, lotions, and personal hygiene products. Not only is hemp less likely to cause an allergic reaction, it's also been known to cure dermatitis and other serious skin conditions. Those who use hemp also have the certainty that they are utilizing a green product that is free of harsh chemicals and toxins that can harm the skin.
The oil found in industrial hemp is used in many products, such as laundry detergent. Hemp oil biodegrades naturally when entering our water systems. Many industries worldwide have incorporated hemp oil commercially due to its beneficial qualities. Germany now manufactures and sells a popular brand of laundry detergent that is primarily based on hemp oil to provide softer, stronger, and more effective clothing.
Electronic books are not the only way to prevent the cutting down of trees.
Hemp can be used to produce the highest quality paper that is resistant to decomposition and does not yellow as it ages. Hemp paper is acid-free and can be recycled many more times than wood-based paper. Over a period of 20 years, 2.5 acres of hemp can produce as much paper as 9.9 acres of forest. Hemp's color eliminates the need for chlorine bleach and can instead, be colored under a more gentle solution such as hydrogen peroxide.
Hemp offers many environmentally-friendly options to current wood products. It's able to yield between three and eight tons of fiber per acre, which is four times that of the average forest. Unlike many types of wood, hemp is low in lignin, meaning that it contains much fewer chemicals. Many types of wood used for construction can be developed from hemp, such as studs, beams, posts, and medium density fiberboard. It's twice as strong as other wood-based fiberboards.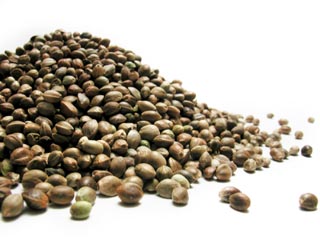 A large variety of foods has been incorporated with hemp to provide nutritional value.
Hemp seeds are second to soybeans and are a great source of vegetable protein. However, they are more digestible and longer lasting then soybeans. Hemp does not have to be cooked or fermented to be eaten and tastes good and is good for you. You can find products that contain hemp at your local organic grocers, such as hemp peanut butter, cheese, flour, crackers, and cake mixes.
Hemp provides healthy proteins that can be incorporated into many types of organic pet foods. This includes household animals, such as dogs and cats, as well as cows, horses, chickens, and various species of birds. Hemp can give these animals a shiny and rich looking coat. It is easily digestible, unlike many commercial brand pet foods on the market today. It also contains Vitamin A and essential proteins that are good for your pet.
The industrial hemp plant is one of the oldest plants, tracing back to 8000 BC in China and the Middle East. Hemp has a history of being extremely versatile and useful in the production of thousands of products all over the world.
With Scent-Sations "Going Green" never looked, smelled or felt so good!!!