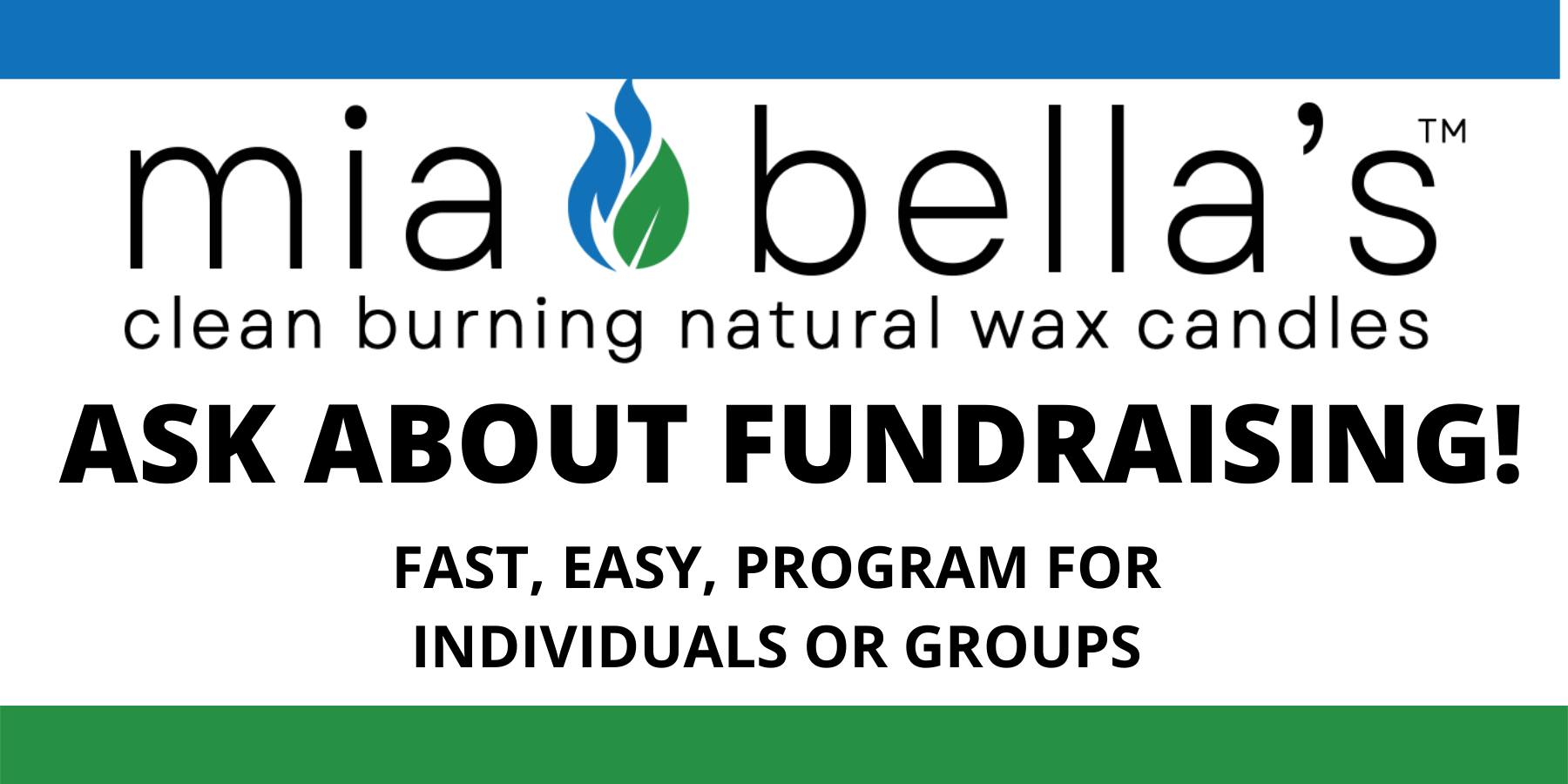 Mia Bella's candles fundraising is a wonderful idea to help groups and organizations earn extra profit!
Budgets are constantly being cut, and there are hundreds of thousands of organizations across the country looking for ways to earn more money every year.    

Therefore, coordinating fundraisers with our Mia Bella candles is a great avenue for putting money in your pocket, and theirs! Fundraising is a great option for part time distributors, since the fundraising group does the majority of the work. You simply coordinate their efforts.
There are thousands of organizations in your area looking for ways to earn more money every year. Why not help them and earn money at the same time? 
Imagine being able to show organizations in your area a fundraiser using our healthy alternative gourmet products..
The process of setting up a fundraiser is simple.
All you have to do is present your Mia Bella candles Fundraising Information to a group! When they decide to sell the products, your work is just about finished! Most organizations already know how to do a fundraiser.
You will provide them with the necessary papers, which include the Fundraising form, order form and required paperwork and they go do the fundraiser. When the group is ready for the candles, you simply fill out a Fundraising  order form, and the company will either ship it directly to the fund-raising group or to you.
Imagine that you could set up just 30 of the thousands of organizations in your area and they sold 1,000 candles per year doing just two fund-raisers per year. This would mean that you could be earn a part time fund-raising income! An added benefit is from the customers who purchase the candles at a fundraiser! You could get lots of new retail customers, more fund-raisers or even new team members from it!
We have Two Fundraising Options to offer Organizations:
1. Mia Bella's Candles Fundraising Brochures
This type of fundraiser is similar to what you're used to seeing… participants show the brochure to their friends, neighbors, co-workers and family. At the end of the allotted time, the organization pays you the agreed upon amount and you place the order. The average price of our candles for the fundraising program is a flat $25. Whatever funds are left is YOUR profit. Pretty simple! The profit to the group is $8 per candle sold.
2. Mia Bella's Candles Custom Label Fundraisers
This unique program provides a great option for fundraising organizations. They can add their mascot, colors, and name to the label. Your group purchases the candles up front and sells them during their sporting events; school meetings, or from a display in their offices.
The Custom Label Program is a simple and efficient fundraising option.
Profit Example for distributor (100 participants selling 10 jars each)
1,000 Total Jars Sold
x $2.00 Your Profit per jar
$2,000.00 Total Profit
"I am a stay at home mom who sold $4,000 worth of candles in only two weeks through a middle school football fundraiser that had only 20 participants. I simply showed the group the products and what they could potentially make. They immediately said, "Yes!"
What other job can you work and make that kind of money with three small children in tow. This family business allows my children not only to help, but also to see me as a professional business owner AND a Mom." – Tasha S, FL
Groups That Can Benefit from Fundraising With Mia Bella Candles:

Dance Studios
Little League Baseball Teams
Animal Shelters and SPCA Organizations
Animal Rescue Groups
A friend with Medical Needs
Music Programs
Church and Mission Groups
Hope for the Cure
Wounded Warriors Project
The Wildlife Conservation Society
Senior Citizen Groups and Organizations
School Clubs – Band / Glee / Cheerleading / Chess / Theater etc.
Day Care Centers
Motorcycle Clubs
Any Group or Organization that needs to raise money
One thing can lead to more, unexpected things.

"I gave a free candle to the owner of a Dance Studio; no strings attached, with no expectations, simply a gift.  Shortly afterwards, the Studio began discussing options for doing a Fundraiser and I mentioned the possibility of using the candles to earn funds for their competitions. 
This then led to them deciding to conduct the traditional Catalog Fundraiser over a two week period.  After the orders had been collected, I earned another $166 and the Studio earned an additional $390 for themselves, with just 12 dancers participating.
Then unexpectedly, one of the moms of the Dance Studio asked if I could do a Fundraiser for a 5th grade class trying to earn funds for a science camp they would be attending. They opted for the Catalog Fundraiser conducted over two weeks. 
I earned an accumulation of over $700.  In addition to the pure profit, I earned free product by utilizing the company specials. I also earned more because the shipping that was quoted to the Studio was greatly reduced because of the quantity of product ordered. I also earned 4% in points on this order for additional free product.
So, I earned nearly $1,000 by giving a candle away as a free gift!" ~~ Cathy M.