Mia Bella Starter Kits 
 

Includes products and your website each month!
Starter Kit choices are $59.95, $99.95, or $114.95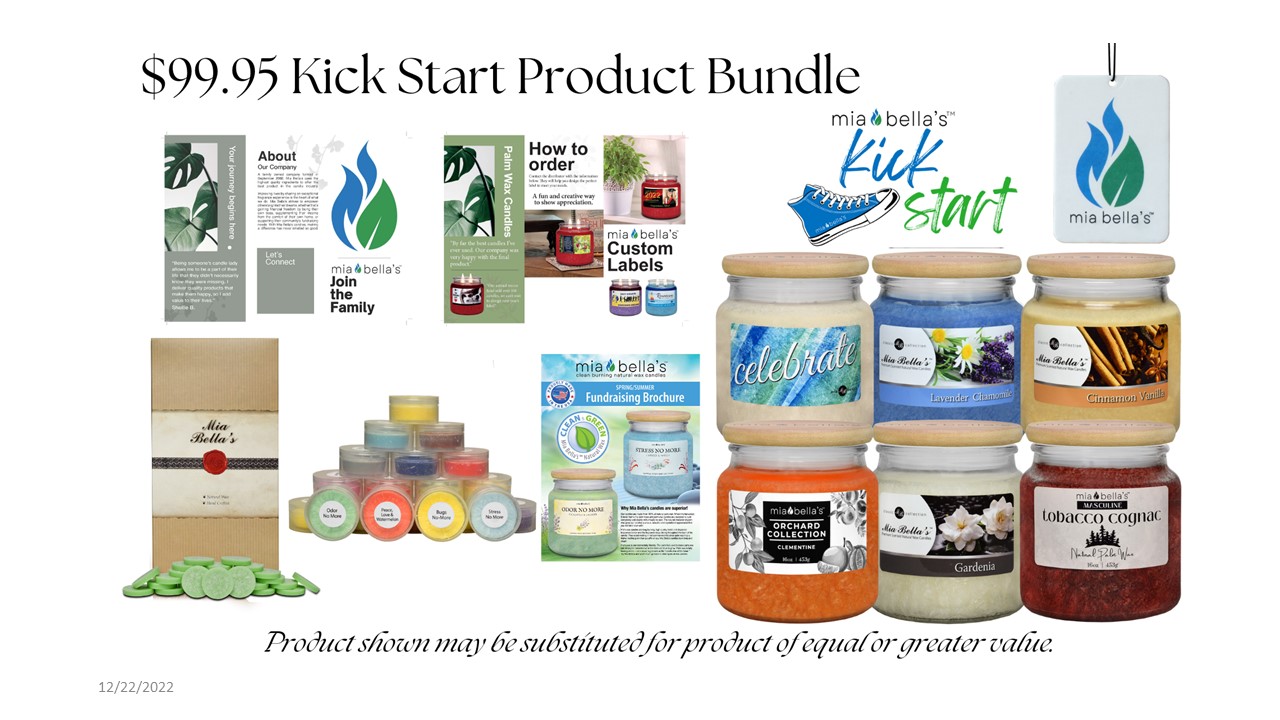 Join as a Mia Bella Candles Distributor!
Love gourmet candles & melts? You will LOVE our Mia Bella's. Come join me as a Mia Bella distributor, receive your Mia Bella starter kit, and start a candle business too! It's fun and it's profitable. We are a direct sales candle company that has been in business 21 years! I would love to go over the costs with you when you join as a Mia Bella distributor.
What does it cost to join Mia Bella candles? Mia Bella's Starter Kit Join Special in June is $114.95 and you will receive 145 Bella Bucks! Retail value is over $260! Bella Bucks is the same as cash to purchase whatever products you would like at the wholesale price!
Also, we have a Kick Start Bundle Kit available now which includes products, scent samples, and marketing brochures! Bella Bucks is the same as cash to purchase whatever products you would like at the wholesale price! Start your own candle business today. Save 44% – 50% for your own personal use too!
To build an incredible Mia Bella candle distributor business with a good income, it's always best to have products in hand to show and sell. You also want to experience the candles yourself!
Our Monthly Website Bundle Option is the best way to start your candle business
Scent-Sations offers 3 Mia Bella Starter Kits (cost to join Mia Bella candles is $59.95, $99.95, or $114.95) which included products and your personalized Scent-Team website. Your billed for your starter kit right away and your website comes up right away. Then the following month starts the Monthly Website Bundle which includes products and your website each month.
The Monthly Website Bundle is either $44.95 or $100 a month depending on how much product you would like to have on hand. If you sell all the products in your bundle each month at retail, you come out ahead! 
So the highest discounts and profit is through our Monthly Website Bundle program. For that reason, the discounts are 44%-50%. (44%-50% profit!)
Regardless of which getting started package you choose, you can go online and order any amount of additional product at any time at the below-wholesale cost.
How do I make money?
You would basically take your customer's orders, collect the money, order in your back office at wholesale, sell at retail, and keep the difference as your profit. The profit ranges from 44%-50%, which is VERY good in any direct sales company. Your website is included each month. Most people who join our company come in with the Monthly Website Bundle program to make the highest amount of earnings because of the highest discounts. There are no quotas or inventory required that you have to have on hand.
You can do vendor events, open houses, face to face sales, Facebook parties, home parties, catalog parties, fundraising, custom labels… so many ways! YOU pick and choose what you would like to do. 
Any sales that come through your candle business website you would earn a 25% commission paid once a month. 
You are automatically 'active' by being in the Monthly Website program. There are no other quotas and requirements to be an active distributor with us.
In addition, some distributors join to just receive amazing products at a very good discount. Some distributors join to retail the products, earn some extra income from home, and receive discounted products for their own personal use. It's totally up to you!
Have you ever hosted or been invited to a home party?
While these parties can be fun and profitable, we've found that many people just don't have the time to host or attend home parties. And as a distributor starting a new business, the last thing you want to do is be away from your family multiple nights a week or meet hefty sales quotas.
That's why here at Scent-Sations, we will NEVER require you to host a home party or meet a sales quota!
I am here just to guide you and you choose what you would like to do in your business. No pressure. Everyone is different and wants to work their business at their own pace, whether fast or slow. It doesn't matter. It's all up to you. I just want to see you have fun and make some good extra income. I am here to guide you and answer any questions you have.
Above all, you will have full training and support. You are in business FOR yourself, but never BY yourself.
Team Benefits – Why Join the Light Your Dream Team in Mia Bella Candles 
The Light Your Dream Team is a successful team with Mia Bella candles along with being one of the original Scent Sations teams. We have been around for many years and are well established with the company and have exceptional support for our distributors. You are never left alone to try to figure it all out yourself. We take pride in our outstanding team support & leadership. Our Mia Bella team has a wonderful, active Facebook team group also where we share ideas, business building tips, and recognitions.
We aren't going to talk you into anything. There is never any pressure from us. We understand your need to make the right decision for you and your family. It's about you and what you need in your life. We are only here to guide and coach you when you need help.
What else makes the Light Your Dream Team different?
Our team also has an exclusive Light Your Dream Team Resource website that can help you with all your questions and get your business up and running quickly! Just plug into our step by step system. 
We are always here for our team to answer questions. And again, there is never any pressure. You work your business however and whenever you like. It's YOUR business. If you want to join just to buy products at wholesale and maybe do a little retailing here and there, that's great! If you are looking for an extra $500, $800, or more a month, that is wonderful too. It's all up to you.
Scent-Sations is the little company where you can dream BIG dreams. We invite you to join us. You won't regret that decision for a single day of your life! Let me get all your questions answered.
Email Alison@MiaBellaScents.com for more information. 
Listen in below to learn more! 
*Note the starter kit cost has changed along with the Monthly Website Bundle mentioned in the video below
Let me know of any questions that you have! Would love to see you join our amazing, Light Your Dream Team too!
Ready to join our team as a Mia Bella Distributor?